Wealth Management Folders
Financial statement presentation folders for distinguished clients
As a financial advisor specializing in wealth management for your affluent clients, you must present an image of refined taste, sophistication, and classic style that portrays steadfastness and longevity. You've been hired to be a trusted advisor on the most important financial decisions your wealthy clients will make in their lives, so you must look and act the part. You are counted on to have the wisdom, expertise and vision to build a financial plan that will ensure the proper management of wealth for your clients and their families – and your work may be the foundation of the future health, happiness and security of future generations.  So when you deliver your client's most important financial documents and reports, imagine that your reports are a piece of family history, and may be held, considered, and handed down to heirs and future generations. Lockhart's finance folders are quite simply the finest luxury folders on the market, without peer, and built to be branded and customized exclusively for our most discriminating clients. Brand your image of excellence and trust with Lockhart quality and prestige.
Preview your custom folder design with our interactive folder designer:
Custom Presentation Folders For Financial Advisors 
Portfolio Folder™
Wealth management folder
Holds up to 325 pages
Landscape single pocket folder
A distinctive no-assembly folder that provides a simple, elegant way to organize your wealth management work for your most distinguished clients.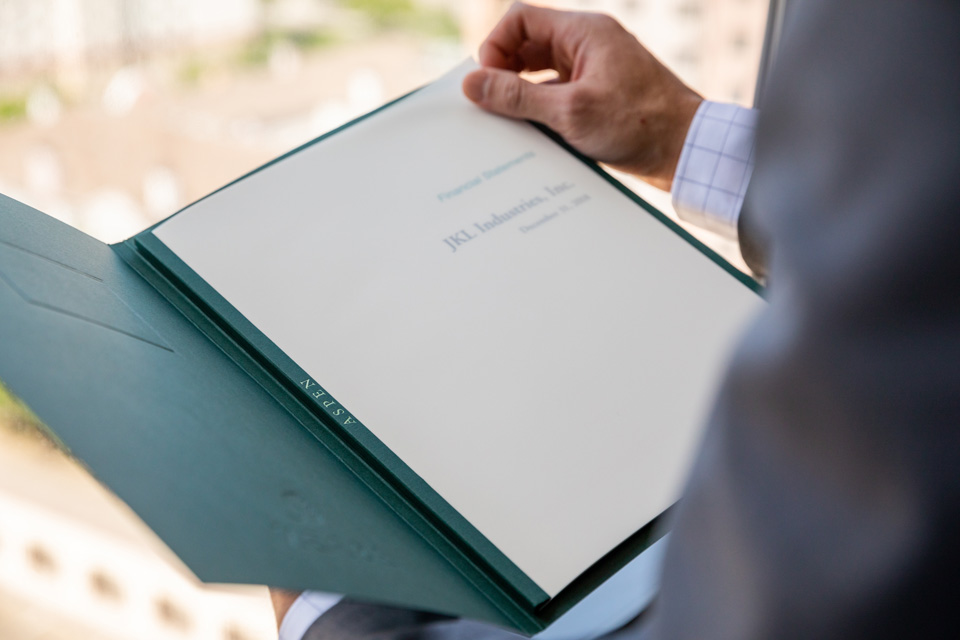 Invis-a-bind CoverSet™
Side bound presentation folder
Holds up to 120 pages
Binds with staples or fastener
Our Invis-a-bind folders are made with our thicker 160# custom-made paper and conceal the binding for a professional and elegant presentation.
JacketCover™
 Custom presentation folder
Holds up to 140 pages
Binds with plastic combs
Your presentations and proposals will truly shine with this beautiful Lockhart folder. Pages lay flat and turn easily which works perfectly for those "across the desk" type meetings.
Deluxe CoverSet™
Financial report cover
Holds up to 40 pages
Binds using staples
Dress your smaller financial reports for success with this economical folder that conceals the binding for a sophisticated professional look.
Translucent Front CoverSet™
Financial report covers
Holds up to 40 pages
Binds using staples
Same functional design as our Deluxe CoverSet except uses a thick translucent vellum front instead that is custom printed with your logo.
Two Piece Covers
Side bound report cover
Holds up to plastic comb capacity
Binds with plastic comb
Deliver your professional reports in a classic two-piece report cover. Works particularly well for financial statements, compilations, reviews and other important reports.
Need Design Help?
It can help to visualize a design or talk to someone about your design ideas to help you choose the best imprinting and folders for your business.
Want Folder Samples?
Our free folder sample kit includes a variety of our most popular presentation folders with examples of our exclusive embossing and foil stamping techniques.
We're available by phone 800-966-2709​, Monday - Friday from 8a.m. - 5p.m.