A distinctive no-assembly landscape folder that will provide a functional solution for your clients and impress at the same time.
Unique single pocket folder
Velcro closure keeps documents secure
Can buy unassembled if storage space is a concern
No assembly (except for two largest sizes)
Landscape format (portrait also available)
Regular: 3/8″ spine (holds 80 pages)
Large: 5/8″ spine (holds 140 pages)
Extra-Large: 7/8″ spine (holds 200 pages)
1 1/2 size: 1 1/2" spine (holds 325 pages)
2" size: 2" spine (holds 500 pages)
Tax Returns
Wills & Trusts
Financial Plans
Real Estate
Bank/Mortgage
ColoRaised firm name/logo imprint
Designer border
Spine imprint
Back imprint
Pocket imprint
130# paper with linen finish custom made exclusively for Lockhart
Available in 10 colors 
Dimensions: 9″ H x 11 1/4″ W
Also available in legal size
Have questions? Ready to order? Our team is standing by and ready to offer whatever help and guidance you need!
(we are available Monday - Friday from 8a.m. - 5p.m. CT)
Like This Folder?
Create your own MY SAMPLE PACK and we'll ship it to you free of charge.
Customize This Folder
Preview a custom design for this folder including colors, options, imprinting, and more.
Custom Options
This folder can be customized with these accessories:
TitlePanel™
with pre-printed titles
Title Sheet
with pre-printed titles
Report paper
printed with your firm name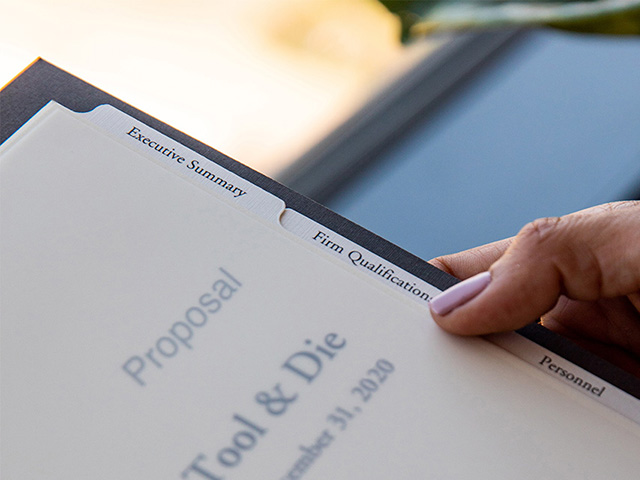 Side Divider Tabs
with pre-printed report titles
PocketCard™
adhesive backed business card
Need Design Help?
Sometimes it helps to talk to someone about your design ideas to help you choose the best imprinting and folders for your business.
Not Sure What Folders You Want?
Our free Sample Marketing Kit includes a variety of our most popular presentation folders with examples of our patented embossed and foil stamping techniques.
We're available by phone 800-966-2709​, Monday - Friday from 8a.m. - 5p.m.